Shipment & Payment options
Method of shipping
eBook 'Reinstate the Original Being'
You will receive from us an e-mail with a link to WeTransfer so that you can download the eBook on your device.
Suppose you want to give the eBook 'Reinstate the Original Being' as a present to another person with a different e-mail address. In that case, you can fill in another e-mail address during the ordering process under the option 'Other delivery address' and provide the other person's name.
Printed books
These books will be sent to you in an envelope, in a mailbox parcel or in a cardboard box.
Payment options
Below you can read in detail how the different payment options work.
Prepayment
Prepayment means that, after entering your order, you first transfer the order amount to our bank account in name of Inspired People Work BV, the holding company of Human innovator, according to the specifications on the order confirmation.
The fastest way to transfer money is to use your bank's internet banking application.
Payment by a bank is safe and involves no extra costs within the
SEPA zone
, but please allow for one (NL) to three working days' transfer time. When transferring, please state the order number from your order confirmation.
Outside the SEPA zone, due to high costs in some coutnries, payment with PayPal seems a cheaper solution.
Suppose you are unable to pay within seven days of prepayment, then we will consider the order cancelled. You will, of course, receive a reminder e-mail.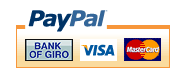 PayPal
If you have a PayPal account, you can pay with that option.
We accept your payment with a credit card via PayPal.

Bancontact (for Belgian banks) and
iDEAL (for Dutch banks)
You pay directly in your bank's trusted, secure internet payment environment. During the payment, the connection between you and Shop.Reinstate.global is secured. Using SSL, the transaction data are automatically sent encrypted over the internet. You can recognise a secure SSL connection by the "lock" in the bottom status bar of your browser.
How do Bancontact and iDEAL work?
You fill your basket, and place the order. On the following page, in the column Shipment and Payment, you select one of them. Next, you select your bank. Then you will be redirected to your bank, with a QR code or filling some information, you authorise the payment. The amount is directly debited from your payment account.